Kamil Özdağ
( 1927, Karaman – 1969, Karaman )
It is KAMIL ÖZDAĞ who is known as 'Kamil Özdağ from Durhasan' in the region and the first entrepreneur of the Özdağ family in food sector so as to form the core of today's Saray Group.
After completing his primary education in Karaman, he made his military service as artillery in Istanbul. When he returned from the military, he married to Semiha Hanım and they had seven children, a girl and six boys. The Özdağ family were from Karaman's local notables and well-known merchant families. Starting his business life in 1961 by trading in vegetable, fruit and dry food, Kamil Özdağ traded staple food products like fresh fruits and vegetables from Adana, potatoes from Adapazarı, olives from Gemlik and butter, yoghurt, olive oil, beans, lentils and chickpeas of the region with his own marketing techniques. He traded products with the highest quality and gave importance to quality.
Kamil Özdağ, who became successful in marketing and sales with his advanced and broad vision, entrepreneurial spirit and courage, opened a business on wholesale food items by enlarging his business.
Kamil Özdağ became the first practitioner of distribution model defined as hot and cold sales distribution in Turkey in the 1960s by bringing his products to local and village grocery stores and it was a great success. In addition, during those times when advertising was not well known, he had printed flyers in his district and had ads with product promotion and prices. When the technology of the time is considered, he also advertised his products through town criers who were the channels of important announcements and commercials.
Kamil Özdağ from Durhasan said, ""If you trust the quality of the work you do, do not hesitate to advertise or announce it."" He bought three-wheeled vehicles, which were suitable means of transportation in the period in order to ensure that the goods he marketed and sold were delivered to customers in no time in a healthy and fresh way, and this different service concept also increased his success.
He was known for his honesty, hard work, and generous, devout and benevolent personality in his environment, and was always referred to as a respectable personality. Kamil Özdağ from Durhasan ingrained the sense of responsibility of selling quality products, giving good service, advertising, and being accountable to public in his children by giving them advice.
He advised them to be ready to face difficulties in business life and to be in constant improvement and innovation throughout their lives, so that no obstacles keep them from their path. He taught them that honesty, hardworking, determination and persistance bring success, and that they should stand up to any difficulties that they face in life.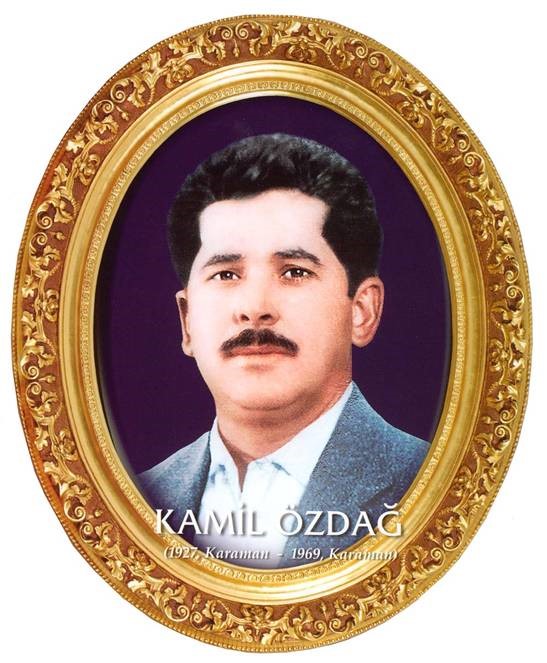 The following lines of Kamil Özdağ from Durhasan best describe the philosophy of trade that he has taught his children and recommended to the young:
To the field of halal
With the cement of honesty
Send of fruitfulness and quality
With the water of reason
By making morter And with that morter
With working brick
Constructing a building
And covering it with gratitude roof
That building under the hand of God
Won't be demolished for centuries.